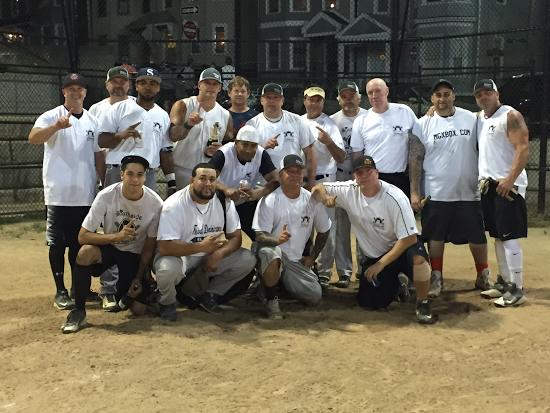 ---
Game 4: Monday, Aug. 29th @ 7:00pm
Magix Box 13 - Harp & Bard 7

Magix Box trailed heading into the sixth inning, but then outscored Harp & Bard, 9 - 0, over the final two innings, to win the 2016 MSSL Championship, three games to one.

Things were looking bad for Harp right from the beginning. Number one pitcher Robby Costello, who had already beaten Magix Box in one game and taken them to the limit in another, was unable to make the game. That left things in the hands of Billy Bottting, the only Harp pitcher who showed up. For someone thrown into the fire with little notice, Billy did a decent job of it.

Box started quick. Sandy Jonge singled, Sammy "Ballgame" MacDonald walked, and Julian Alvarez singled to load the bases with nobody out. A hard liner off the bat of Pat Dolbeare was caught by shortstop Joel Kershner for one out, but then Mike Selig walked to drive in the first run. Kevin "K.O." O'Hara forced MacDonald at home for out number two, but John Manning singled in Alvarez to make it 2 - 0 after the top of the first.

After Harp only managed a single in the bottom of the first, Nate Mattson led off with a triple for Box. But after a pop-up for the first out, Sandy Jonge grounded to Marshall Chick at third and Chick threw to Matt O'Donnell at home. O'Donnell put a nice tag on Mattson and Box was left with a runner on first with two outs. MacDonald walked, but they failed to score as Julian Alvarez flied to right. Rocky Pisa got Harp 1 - 2 - 3 in the bottom of the second and then Mike Selig powered one through the trees in left center to make it 3 - 0 Box. Again, Pisa didn't give up a hit in Harp's half.

Top of the fourth saw Billy Botting strand two Box runners. Then Harp came to life. Joel Kershner singled. Chick singled. Jason Clucas walked to load the bases. Mark Preziosi singled to score Kershner, making it 3 - 1, still bases loaded. After an infield fly out, Keith "Beefa" Savage singled to tie the game, scoring Chick and Clucas. Then Dave "Bongo" Conlon, who made many clutch plate appearances in this series, singled. That scored Preziosi and gave Harp a 4 - 3 lead. Drew Brock followed with a grounder to Lenky Dupree at second, a possible double play ball, but the toss to Jonge at second didn't make it into his glove. Savage's run scored. And when the return throw from left field also went wide of the mark, Conlon came around to score and Brock ended up on third base, still with just one out. Matt O'Donnell hit a grounder and Brock was going on contact. He was thrown out on a very close play at the plate. And then Jimmy Botting flied to right center to end the inning. Harp had scored six times, to take a 6 - 3 lead into the fifth inning.

In the top of the fifth, Alvarez flied out, but Dolbeare and Selig singled. O'Hara followed by working a base on balls, loading them up for John Manning. Manning singled, scoring Dolbeare, but Preziosi uncorked a fine throw from center to O'Donnell at home and Selig ended up caught in a rundown and tagged out. Ekasala walked to load the bases again, but Billy Botting got Mattson to fly out, leaving Harp ahead, 6 - 4. And they got the run back in the bottom of the inning on a single by Kershner and an RBI double by Chick (who played a fine game tonight, perhaps erasing some of the bad taste from his game three.) It was 7 - 4, Harp, heading into the sixth. The boys in red started to believe they could extend this thing to game five.

The team in white tried to extinguish those thoughts quick, fast, and in a hurry. Lenky Dupree closed the gap to two with a lead off homer. A Jonge walk and MacDonald single put two on for Alvarez and he wasted no time in bringing them, and himself, home. Julian's homer made it 8 - 7, Box, and Harp would never have the lead again. Another run scored in the frame as O'Hara came around, with two outs, on a Manning grounder that eluded Harp.

Now facing a 9 - 7 deficit, Harp tried to rally. They put the first two runners on via a single and an error, but Pisa caught a pop-up, induced another one that Selig grabbed in a nice play wherein he came out from behind the plate, and then a 5 - 3 grounder ended Harp's best last shot. In the top of the seventh, Box put it out of reach, the big blow being a three-run Mike Selig homer that made the score 13 - 7. And that's how it ended. Kershner singled to lead off, but three straight outs followed. Magix Box won and the celebration was underway.

Mike Selig (10 of 13, 3 walks, 4 home runs and 11 RBI) and Rocky Pisa (3 wins, and lots of clutch) shared MVP honors.
| | | | | | | | | |
| --- | --- | --- | --- | --- | --- | --- | --- | --- |
| | 1 | 2 | 3 | 4 | 5 | 6 | 7 | TOTAL |
| Magix | 2 | 0 | 1 | 1 | 0 | 5 | 4 | 13 |
| Harp | 0 | 0 | 0 | 6 | 1 | 0 | 0 | 7 |
Magix Box
AB
R
H
RBI
BB
K
Jonge ss
4
3
3
0
1
0
MacDonald 3b
3
2
1
0
2
0
Alvarez rf
5
3
3
4
0
0
Dolbeare lcf
5
1
1
0
0
0
Selig c
4
2
3
5
1
0
O'Hara rcf
4
1
1
0
1
1
Jn Manning 2b-1b
5
0
3
2
0
0
Ekasala dh
4
0
1
0
1
1
Mattson lf
3
0
1
0
1
0
Calnan 1b
1
0
0
0
0
0
Dupree 2b
3
1
2
1
0
0
2B - O'Hara
3B - Mattson
HR - Selig(2), Alvarez, Dupree
LOB - 14
E - 5
IP
H
R
ER
BB
K
Pisa (W)
7
10
7
5
1
1
Harp & Bard
AB
R
H
RBI
BB
K
J. Botting rcf
4
0
0
0
0
0
Kershner ss
4
2
3
0
0
0
Chick 3b
4
1
3
1
0
0
Clucas lf
3
1
0
0
1
0
Preziosi lcf
4
1
1
1
0
0
B Botting p
3
0
0
0
0
0
Savage 1b
3
1
2
2
0
0
Conlan 2b
3
1
1
1
0
0
Brock rf
3
0
0
1
0
0
O'Donnell c
3
0
0
0
0
1
2B - Chick
LOB - 7
E - 2
IP
H
R
ER
BB
K
B Botting (L)
7
19
13
11
7
2
---
Magix Box wins series 3-1