August 19, 2018 - You all know I get paid for what I do at the ballpark. I get part of the game fee. The league pays me for compiling the stats. I get paid to write these recaps. I make a few more bucks on those nights when I umpire. However, anyone who really knows also knows that I come down to the ballpark, most nights, not just because Iím getting paid for it but because Iím looking forward to seeing good ball played by good people.

Donít get me wrong. Some nights itís a job - When I need to decide about a rainout, or I need to settle a rules dispute on the fly without a clear answer in the league rules, or when someone starts arguing a call when Iím umping. Thatís when I earn my money. Otherwise, I enjoy the hell out of being at M Street. How could I not? I get to see three games a night of a sport I love. I have conversations with whole bunches of people whose company I enjoy. Sometimes, folks bring me stuff, like drinks or food. Hell, I like doing statistics, so even that part is generally fun for me.

This past week, thoughÖ

The rainouts. I worried all day Monday. Will we be able to play? Some folks were kind enough to send me photos of the field. It was horrible. It became obvious we wouldnít play unless we had commitment from the guys playing at 6:00 to work the field hard and get it into playing shape. I didnít have any commitment from them, so that was that. I had to call off Monday.

Friday was worse. I didnít think thereíd be a problem at all. Iím driving to the park, looking forward to a couple of good ďBĒ games. I come out of the tunnel in Southie and it starts pissing down rain. Iím driving on First Street and itís pouring and the whole time Iím thinking, ďWTF. Even if this stops right now, the field is probably going to be wrecked from a damn 10-minute downpour. This sucks ÖĒ

I get to the park and decide to have a look at the field. Maybe we can do this. Itís nasty. Soft as puppy shit in some places, batterís box a large puddle, small ones elsewhere, but Chris Boyd from City Tap House is walking down to the field and I talk to him. I express my concerns. He says, ďWe sure do want to play. I think we can make it work.Ē He grabs a shovel and another good guy from the opponent, Broadway Bombers, grabs a rake. They start working the field. A few other guys arrive and do what they can. Yeah, it looks like weíll get these games in!

Finally, all the guys are at the field, Mikey Lydon is ready to ump, itís literally one minute before weíll get it underway, andÖ Yup. It starts to pour again. We all get under trees or whatever shelter we can grab and hope it stops soon. Nope. Another 10-minute storm and the field is wrecked beyond repair. Rained out. I walk through the mud, gathering up the water-logged bases, put them in my rain-soaked bag, and drive home wet. Woo-Hoo, I'm having fun now!

Ah, but Wednesday! Iím waiting Ė along with Earl the umpire and the guys from Southside B Ė expecting Locker Room Talk to show up for a 7:30 game. And we wait, then wait some more, and it becomes obvious they arenít showing. It gets to 7:40, I call it an official forfeit, I send Earl on his way home (after paying him out of my own pocket, of course, because he deserves it for the game before this, and for his expected work on this game that isnít going to happen, and I donít have money from the second game from Locker Room Talk because, well, nobody showed up for a playoff game. Not only that Ė this was a continuation of a game they were leading, 4Ė2, when I had to suspend it last week due to Ė yes Ė rain. They couldnít get enough guys to play, in THE PLAYOFFS, in a game where they were going to take the field with a two-run lead, two men on and nobody out. Amazing.)

So, now I get to cool my heels for another 75 minutes while I wait for the start time for game three of the evening. Well, at least thereíll be a full slate the next night and I can recoup the money I laid out when I paid Earl.

Nope.

LRT forfeits their way out of the playoffs by not being able to get enough players for the 6:00 game on Thursday. Yay!

So, what we had this week was rain two days out of five; one team forfeiting twice on another two days; Iím still owed the forfeit fee; but at least I got to see seven games out of a possible 15 that could happen in a week. Hey, I wonít complain too much. It was made up for by my car breaking down after the games on Tuesday.

Uh-Huh. Iím truly happy Tuesday night. We got all three games in. Considering the circumstances, with one game running way long and only so much time left to get the 9:00 in, it still all worked. I get into my car, Mikey Lydon in the passenger seat because Iím going to give him a lift. I say, ďMikey, Iím feeling pretty happy right now. The games got in. I did grocery shopping today, so I know thereís good food waiting at home. Iím going to enjoy a nice relaxing late evening.Ē I start the car. I try to shift into drive. I canít get the gear shift out of park.

I tried for ten minutes, re-starting the car, trying slightly different angles and pressures on the lever. Nothing but frustration. I finally give up and called AAA (thankfully, for the first time in my life I have a cell phone because MY WIFE was intelligent enough to buy one for me and she insisted I take it with me.) I tell Mikey he should start walking. I sit there on East First, nothing else to do but wait for the tow and smoke a few cigarettes. Now, when the tow got there, the driver was knowledgeable. He removed the outer parts of the gear shift lever, showed me how to do a manual override to get it to shift, and I got home without a tow and have been able to drive my magnificent 1997 Pontiac Grand Am to and from the park ever since.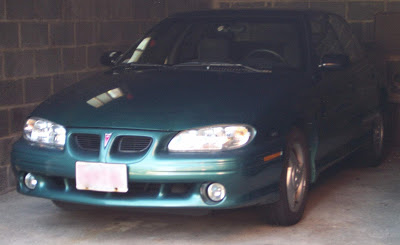 Roddy - The Wondercar
Letís tally the score. Two nights rained out. Two nights with forfeits. One night with a broken car. Thatís five nights without a single one problem-free.
This week was work. Thanks for listening to me bitch and moan. Now Iíll tell you why this was still a good week.
First, by any means, is the fact that my good buddy, Jason Atton, a longtime M Street player and one of the nicest guys to ever play here, got pretty much a miracle answer to the prayers by me and others. Instead of having radical surgery that his doctors were almost certain would have to be performed, he is instead now in a rehab facility and feeling much better. Well, it doesnít get any better than that, but Iíll tell you more. Saturday, I shopped for a new car (well, a new used car) and I expect to have it on Tuesday. Iíll probably (Iím not kidding) cry a little bit when I leave Roddy (the 1997 green Pontiac with the gear shift I have to put my hand into his guts to get out of park) at the dealer. Iíve had him for 17 years and heís been an absolute king to last this long. However, being in a position to be able to get a new ride is a blessing. AND, last but not least, the playoffs are underway.
Letís get to the recaps before I bore the shit of you some more.
Monday was rained out.
Tuesday saw Berkshire Hathaway scores five times?in the second inning and never trail after that, taking a 9 - 4 win to even their series vs. Southside Tavern at one each. Deciding game three goes this coming Monday. Loco Pirates had a lead, 8 - 5, going into the bottom of the sixth, but Pat Simpson Club scored six times (the big blow being a grand slam by Brian Goodman) for an 11 - 8 lead. In the top of the seventh, the Pirates clawed back to a tie via five walks and one hit, but the Simpson Club takes it in the bottom of the seventh on a bases loaded walk-off single by Pat "Trigger" Triggs. Pat Simpson Club wins, 12 - 11, and leads the series, 1 - 0. The third game of the night was eerily similar in some respects. Lincoln Tavern leads, 9 - 6, into the bottom of the sixth, but Roza Lyons comes to life and scores six for a 12 - 9 lead. Lincoln's rally falls just short in the seventh and Roza takes the game, 12 - 11. Deciding game three in this one goes Monday.
Wednesday began with Fat Baby jumping out to an 8 - 0 lead after two innings. They won going away, 19 - 7, to force a third and deciding game against Backyard Bettyís, which will play Tuesday. Pitcher Gil Ward scattered nine hits (all singles) and gave up only three earned. As detailed earlier, Locker Room talk forfeited, giving Southside B a 1 Ė 0 series lead. In the deciding game of the Handdukies Ė VMT series, VMT scored four in the first. They held a 6 Ė 2 lead after 3-1/2. However, Handdukies outscored VMT, 11 - 1, the rest of the way and earned a berth in the semi-finals via a 13 Ė 7 win. Pat O'Sullivan homered, while Kevin "K-Mo" Moran doubled, tripled, and drove in three.
Thursday had two when LRT crapped out in the 6:00 game..The Kekambas did all of their scoring in one inning - the second, when they plated 11 runs. That was enough to take the game, 11 Ė 7, and the series, 2 Ė 1, over the always-troublesome STATS Sluggers. Late home runs by Cody Hill and Robb Scott made it respectable for STATS, but Pete Kelich only allowed four earned and he was backed up by Will Kiriazidis (HR, 3 RBI), Phil Scirreta (HR), and R. J. Roman (3-for-3). Pete also drove in two to help his own cause. Kekambas move on to the semi-finals in their first year in the "A" division. In the second game of the night, The Leader, Charlie Connors, had two clutch hits, while Brian "Cheeks" Pacheco stranded 11 Pat Simpson Club baserunners, in a 9 -2 Loco Pirates victory. It was a tight 2 - 1 game, Simpson Club in the lead, heading into the bottom of the fifth. Mike Bulman had homered in the third, to knot the score at one, then drove in the second run in the top of the fifth via a single that scored Pat "Trigger" Triggs, but that was all Cheeks gave up. In the bottom of the fifth, Connors singled, with two on and two out, to give the Pirates the lead, 3 - 2. Then, with the score at 6 - 2 in the bottom of the sixth, Connors tripled in two more and scored on an error, making it 9 - 2 and effectively ending it. The series is even at one game apiece, with the deciding game three scheduled for Tuesday at 8:30. Gerry Sarro, pitcher for Simpson, took a hot shot off the ankle and was down for a few minutes, but he toughed it out and finished the game. The Pat Simpson Club had a few injuries on the night. Hereís hoping all are healthy Ė on both sides Ė for what should be a very exciting deciding game.
And it rained on Friday.
There you go. That will do it for this week. See you at the ballpark!
In closing, some of you haven't claimed your cash award - batting average, HR, R, ERA and K in both divisions are winners and have money owed them. Please email your contact info (name & address) to our comissioner, Mark Senna (mark3325@hotmail.com) so he can get your much deserved award to you.
---
Important reminders from your commissioner:

Parking - guys please leave your cars at home as the available parking spaces around the field is VERY, VERY limited. Most spaces are Resident only so unless you are a South Boston resident then you will most likely get a $40 ticket that the league cannot cover. We are told that some parking relief (Thomas Butler Park on First Street will have some residential spaces available) is on the way but isn't complete. If possible, car pool, take the MBTA/City Point bus, or bike/walk to the park and save yourself the headache.

Umpire/Scorekeeper fee - please pay the umpire $25 and pay $5 to "Sully" the official scorekeeper BEFORE the game begins.

Forfeits - forfeits are not acceptable in the M Street Softball League as they cost the league money and waste everyone's time. With that said, if you know there is a scheduled game that is going to be a problem then let me know ASAP and I will work with you in finding additional players and/or cancelling the game all together.

Inclement weather/rain outs - the league will usually make a decision by 5pm on whether or not the game is on or off. Once the decision is made then the league will reach out to the coaches - we will not leave you without word. The league website (sbsports.com) will also be updated within minutes of a cancellation.

Bats - just a reminder that composite bats are illegal...however, bats that have a composite handle and metal barrel are OK. DeMarini Steel is a very popular bat in our league as is the Anderson RocketTech. There was talk about banning doublewall bats and going with single wall bats moving forward. Since we told teams that double walled bats were legal last season and plenty were purchased we feel that we cannot change the rule at this time. However, starting in 2019 the league will move to single walled bats only.

Equipment - the league will provide bases and also has a catcher's mask that your catcher can borrow (ask Sully) on a nightly basis.

Pitching rules - we are using the same rules as we implemented last year...that's strict modified pitching - no sling, no windmill, and no arc. It's pretty much straight back with the arm, a forward step to the plate, and deliver the ball. A great source on the "Classic Style" with videos can be found here 10manmodified.com/pitching-rules/videos-of-modified-styles/

Starting lineups - reminder, we use four outfielders, P, C, 1B, 2B, 3B, SS and if you want (optional) you can use a DH and an EH for a total of 12 players. The EH can take the field and substitute for any defensive player while the DH cannot take the field (unless injury).

Playoffs - 16 teams will be eligible for the playoffs.

Playoff eligibility - although the rosters are open there is minimum number of plate appearances or innings pitched (25) a player must meet to qualify for the playoffs.

Stats, news, etc... - please check the league website for all the latest news, standings, stats, and more.

Schedule - we tried to evenly spread out the amount of start times for each team...it's not an easy or exact science. The regular season will run from May to mid August followed by the start of the playoffs.

Wishing you and your players a great season of softball at M Street.

Sincerely,

Mark Senna
M Street Softball League