September 9, 2018 - Iíll be giving a full recap of our own two championship series as soon as they both complete during the coming week. Meanwhile, congratulations to the Boston Sharks, winners of the 10-Man Menís Modified tournament at Nationals in Michigan, and to the M Street players who were part of that championship team. Hereís a photo.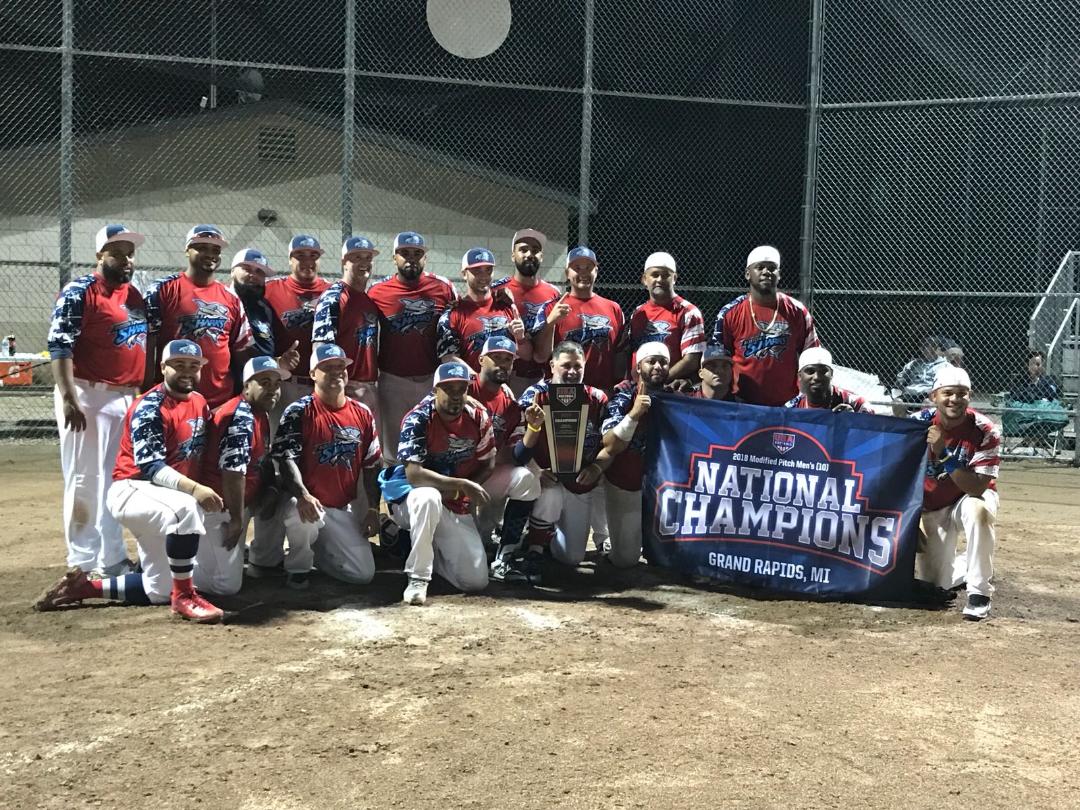 2018 - National Champions
MSSL Players: Gio Colon, Danny Ekasala, Scotty Hyland and Sammy MacDonald (Tournament MVP!) Ė all from the Southside Tavern team - and Jamill Moquette (Smoke Shop BBQ); as well as former M Street players Sammy Acevedo, Julian Alvarez, Javier Colon and Mike Hoadley.
It should also be noted that another Boston team with many M Street guys, MJS Construction, was there defending their championship from 2017. They finished fourth, a fine showing.
Back next week with the winners of the MSSL championship series.
That will do it for now. See you down the ballpark!
---
Important reminders from your commissioner:

Parking - guys please leave your cars at home as the available parking spaces around the field is VERY, VERY limited. Most spaces are Resident only so unless you are a South Boston resident then you will most likely get a $40 ticket that the league cannot cover. We are told that some parking relief (Thomas Butler Park on First Street will have some residential spaces available) is on the way but isn't complete. If possible, car pool, take the MBTA/City Point bus, or bike/walk to the park and save yourself the headache.

Umpire/Scorekeeper fee - please pay the umpire $25 and pay $5 to "Sully" the official scorekeeper BEFORE the game begins.

Forfeits - forfeits are not acceptable in the M Street Softball League as they cost the league money and waste everyone's time. With that said, if you know there is a scheduled game that is going to be a problem then let me know ASAP and I will work with you in finding additional players and/or cancelling the game all together.

Inclement weather/rain outs - the league will usually make a decision by 5pm on whether or not the game is on or off. Once the decision is made then the league will reach out to the coaches - we will not leave you without word. The league website (sbsports.com) will also be updated within minutes of a cancellation.

Bats - just a reminder that composite bats are illegal...however, bats that have a composite handle and metal barrel are OK. DeMarini Steel is a very popular bat in our league as is the Anderson RocketTech. There was talk about banning doublewall bats and going with single wall bats moving forward. Since we told teams that double walled bats were legal last season and plenty were purchased we feel that we cannot change the rule at this time. However, starting in 2019 the league will move to single walled bats only.

Equipment - the league will provide bases and also has a catcher's mask that your catcher can borrow (ask Sully) on a nightly basis.

Pitching rules - we are using the same rules as we implemented last year...that's strict modified pitching - no sling, no windmill, and no arc. It's pretty much straight back with the arm, a forward step to the plate, and deliver the ball. A great source on the "Classic Style" with videos can be found here 10manmodified.com/pitching-rules/videos-of-modified-styles/

Starting lineups - reminder, we use four outfielders, P, C, 1B, 2B, 3B, SS and if you want (optional) you can use a DH and an EH for a total of 12 players. The EH can take the field and substitute for any defensive player while the DH cannot take the field (unless injury).

Playoffs - 16 teams will be eligible for the playoffs.

Playoff eligibility - although the rosters are open there is minimum number of plate appearances or innings pitched (25) a player must meet to qualify for the playoffs.

Stats, news, etc... - please check the league website for all the latest news, standings, stats, and more.

Schedule - we tried to evenly spread out the amount of start times for each team...it's not an easy or exact science. The regular season will run from May to mid August followed by the start of the playoffs.

Wishing you and your players a great season of softball at M Street.

Sincerely,

Mark Senna
M Street Softball League